South Africa is known for its diversity and broad cultures and with that comes its most notable buildings in terms of aesthetic appeal or historical backgrounds. Check out the following buildings and their cool features as well as their background.
The Diamond building/ Eleven Diagonal Street- Johannesburg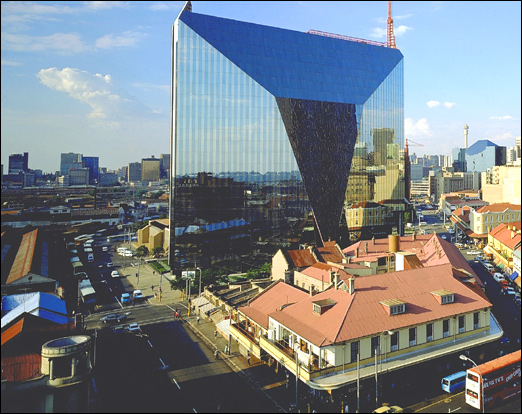 Photo by Giles Ridley
Eleven Diagonal Street in Gauteng is owned by Absa Bank, is a unique Johannesburg building.
It was designed by the renowned architect, Helmut Jahn, and resembles a multi-faceted diamond, with massive glass sheets placed at varying angles reflecting different images of the CBD.
Fort Merensky- Middelburg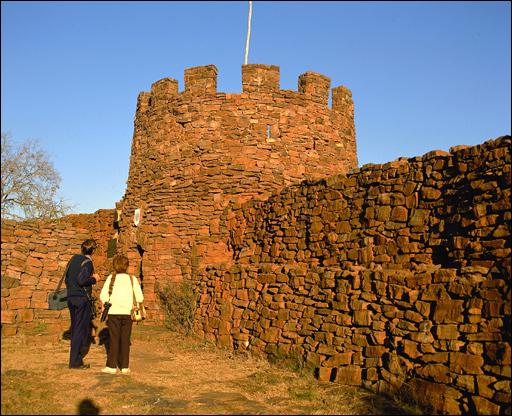 Photo by Walter Knirr
Fort Merensky in Mpumalanga was built to protect Botshabelo (place of refuge), a mission station established just 5 km north west of Middelburg, in the 1860s by Alexander Merensky and Heinrich Grutzner of the German Missionary Society.
Amongst other things the fort provided a refuge for black Christian converts fleeing their own community, where they were regarded as having betrayed the community's ancestral beliefs.
You can, by all accounts, climb the five metre high lookout tower at Fort Merensky – not very high, but it will give you an idea of the view from here. Visitors to the Botshabelo village and fort today speak about the juxtaposition of a number of different styles of architecture in evidence.
Particularly the little fort, which stands on a koppie above the mission station, with a tower and walls that reflect a rather eclectic mix of western and Sotho architecture.